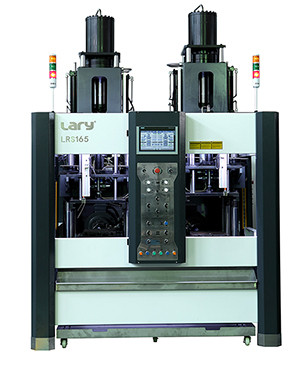 Lary high precison double-color rubber sole injection machine
Description
Advantages for LR165II rubber injection for shoe sole:

1, the first two-color (material) rubber soles injection molding machine can be used for injection to produce two-color rubber soles in the world, with embedded color technology to produce more than three-color rubber soles.

2, Europe's most advanced technology of rubber soles production, designed special for rubber soles, compact, fully automated production, one worker can operate six stations.

3, only put the rubber strip into the feeder, you can achieve automatic metering, preheating, injection, and automatically moving out the mold, opening mold, fully automated production process, greatly improving production efficiency, reducing labor intensity, protecting the mold.

4, the process of injection after clamping, greatly reducing the product flash and trimming costs, the product is more compact, to improve the intrinsic quality of the product.

5, With human interface, you can set the curing time, injection volume, preheat temperature, curing temperature, exhausting parameters, and fault diagnosis system that can guide the maintenance staff to solve the problem in the shortest time.

6, equipped with automatic die change system, and a mold can be replaced within five minutes.

7,Advanced energy-saving hydraulic control system can support 24 hours' continuous operation, with quickly response, energy efficiency.

8, for insert color process, single color injection machine will solve the rubber mixing problem easily, greatly improving the yield of the embedded color products, quality, and reduce costs of artificial re-treatment.

9, Optional vacuum system, completely solve the problem of products with air.


10, two kinds of heating systems is available, electrical heating and oil heating.
Technical Parameters