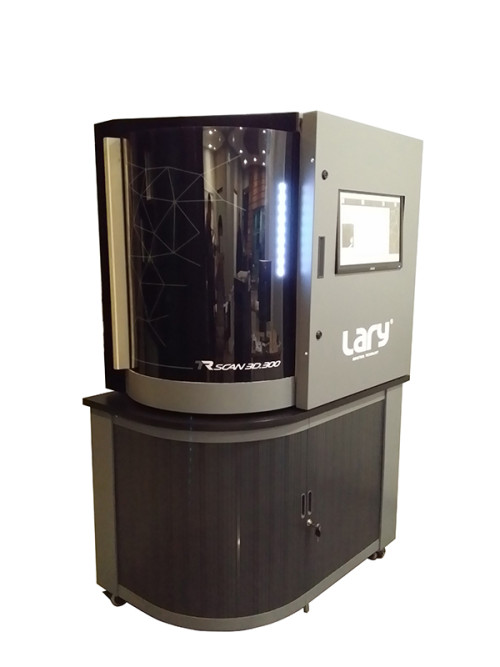 Description
TRscan 3D-300 STUDIO LAST DESIGN

Solution to designed in 3D your shoe LAST!
TR Scan 3D-300 is a 3D scanner designed specifically tocapture the three-dimensional shape
of a shoe LAST.
Using the most advanced scanning technology, now it's possible to capture 3D shapes with
colour or texture.
Designers can now easily draft guide lines on the LASTand scan the 3D with the image
associated to use on product design in 3D CAD.
The scanner is fully automatic, so you can digitalize the shoe last without human interference,
In order that the user can make other tasks during thescanning process.
Stand-alone computer build in.
Advantages:

Easy to use

High speed scanning

High quality scanning

3D and colour scanning

Fully integrated with all the 3D package tools

Application:

• Optimized for footwear ( SHOE LAST)

• Rapid prototyping

• Reverse engineering

Scanning Method:

• Structured light 3D scanning (1 MPixel Camera; Projector 1080 P Native 1920x1080

Colour 3D Scanning:

• Mesh and texture image

2 Axis Table:

• B - Axis full Rotation | A - Axis -30 to 30 Tilt

Scanning Volume:

• Cylindrical - Diameter 200mm, Height 300mm

Resolution:

• ~ 0,3 mm

Include CPU:

• Core i5, Graphic N 750, 8GB DDR3, OS: Windows 8.1, Touch Panel 17"

Output Formats:

• OBJ, STL, PLY

Connection:

• Ethernet

Power:

• 110 to 250V ~1500W

Size, Weight:

• ( 970x640x950mm); ( 100Kg)