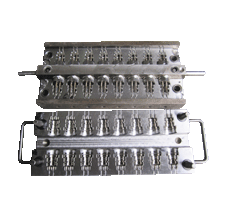 Description
Rubber Injection Mold
It is suitable for rubber injection molding machine. Before being injected to the cavity of molds through screw or valve of injector, the rubber compound is pre-heated and plasticized, then the rubber will be vulcanized and molded under high pressure and temperature.
Injection mold technology is applied for processing, which could make production continuous, highly-efficient and produce products with excellent density. In addition, it could also duly shorten the vulcanization time and improve the dimensional precision. It is applicable to products with complex shape and molding difficulty and inserts. Major molds include shock absorber mould, corrugated pipe mold, elbow pipe mold, silicone mold, auto parts mold, electronic accessories mold, dust-proof cover mold and cold runner mold etc.

Main processing equipment include: high-precision processing center, numerically controlled lathe, grinding machine, carved car, ordinary lathe, other metalworking equipments etc.
Technical process type: rubber injection mould
Number of cavity: multi-cavity mold
Applicable scope: automobile, electronics, electrical appliances, daily necessities, power, transportation, electrical appliances, footwear, mobile phones, pharmacy, handicrafts, blowers, diesel set and all kinds of equipments and instruments etc.
Mold materials: 40CR,45#,P20,Cr12MoV
Form of processing trade: designing and processing with drawings or samples

1. Mold of Shock Absorber

Rubber shock absorber, shock pad and buffer are rubber products that mainly aim at absorbing impact energy and easing impact effect. The product also includes rubber buffers and cushions etc. Generally, the products are rubber products that are made by pure rubber or with metal structure. Because the impact stiffness is higher than the dynamic stiffness which is greater than the static stiffness, impact deformation and dynamic deformation could be reduced. Such products are widely applied in all kinds of vehicles, rolling machines, construction machinery and vibrating screen etc. This kind of product is simple in structure, convenient in installation, safe and reliable in performance.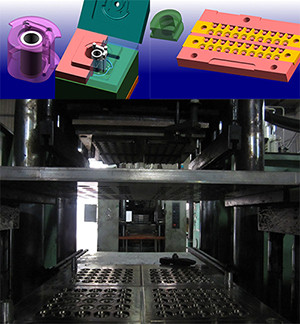 2. Corrugated pipe, elbow pipe molds

Rubber corrugated pipe and elbow pipe molds are applicable to flexible connection or sealing for mechanical equipments. Molding design is rather difficult for the products. For example, the design and processing of mold cavity and spindle how to design processing and how to ensure the structure and dimensions. Besides, the mold should be easy to assemble and dismantle, leaving no seam among components to ensure no adhesive burring produced among components.


3. Dust-proof cover mold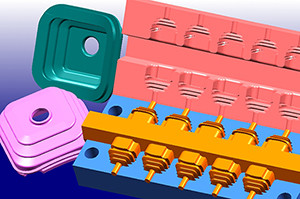 4. Mold for electric accessory molds or auto part mould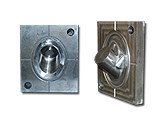 Electric accessory mould


Auto parts mould

5. Cold runner mold
As for the cold runner injection mould, rubber compound in the sprue and runners are both at a low temperature, which can save a large number of rubber materials while improving the production efficiency and reducing the cost at the same time.